Moelfre lifeboat RNLB Kiwi unveiled after £2.2m bequest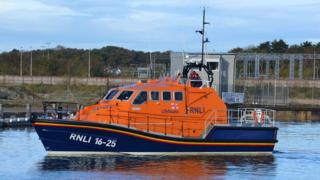 A new lifeboat has been unveiled on Anglesey after a New Zealander left £2.2m to the RNLI in his will.
Moelfre's £2.7m lifeboat has been named RNLB Kiwi after Reginald James Clark, who died in June 2004.
Mr Clark was a merchant seaman who was rescued by a lifeboat after his ship was torpedoed during World War II.
Moelfre, on the east coast of Anglesey, is also re-opening its revamped maritime museum, the Seawatch Centre, on Monday.
The village's lifeboat operations manager Rod Pace said Mr Clark was torpedoed three times during the war, and on one occasion was rescued by the RNLI.
After the war he moved to the UK and had a farm estate in the south of England.
"Mr Clark left the money to the RNLI and it has decided where it is spent. The RNLI must have been close to Mr Clark's heart," Mr Pace said.
He said the replacement Tamar class boat was bigger and faster than the station's current Tyne class lifeboat Robert & Violet, which entered service at Moelfre in 1988. It has launched 392 times, saved 92 lives and rescued 412 people.
"Its speed will help us get to casualties quicker and it's quite a mean rescue tool," added Mr Pace.
Rich maritime history
In keeping with the boat's name and its benefactor, the lifeboat station had black polo shirts made for Monday's unveiling.
"We've had polo shirts made in black, thinking of the All Blacks. We don't want to upset any of the Welsh rugby fans, but we've got shirts with a Kiwi on our right shoulder and the emblem of the RNLI and the lifeboat on the breast pocket," he said.
Moelfre RNLI coxswain Antony Barclay said he expected gasps when the new lifeboat sailed around the headland for the first time at Moelfre.
"This really is a fantastic boat and I have every confidence that she will serve us well and help us to save more lives off Moelfre," he added.
Meanwhile, the revamped Seawatch Centre was opened by the station's oldest retired crew member Davey Owen, 78.
The museum is a reminder of the island's rich maritime history, housing an authentic 20th Century lifeboat.