Newborn lamb found in snowdrift in Conwy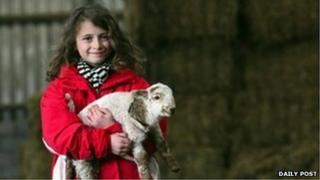 A lamb found alive after its mother had been buried in a snowdrift for two weeks has been hailed as a "miracle" by the farmer who discovered it.
Gareth Wyn Jones has lost dozens of sheep in the heavy snowfall which has hit north Wales hard, and had given up hope of finding any more stock alive.
He found the mother and her newborn lamb in the drift under a gorse bush, which she had eaten to stay alive.
Mr Jones, from Llanfairfechan, is still finding dead sheep on his Conwy farm.
So far he has recovered about 50 bodies from the snow.
However when out on his rounds on Sunday he thought he saw something move under a large drift.
"It was a bit of light at the end of the tunnel," he told BBC News.
"I was just going around the sheep like usual and the chances of getting live ones now would be very scarce.
"Where she was buried was under a gorse bush and the bush was totally covered when I was searching.
"There was about a 12ft drift and she was down about 4-5ft. I thought I could see something. I saw the gorse bush, and lifted a branch and there she was, underneath."
Mr Jones could not believe his eyes when next to the live sheep he saw a tiny lamb which he guessed to be about two hours old.
"I pushed the snow down and she came out herself. The lamb was fighting to get out as well," he said.
'Happy ending'
He took the animals back to the shed, but by the next day realised that the mother did not have any milk following her two-week ordeal under the snow, which she had only survived by eating the bush and using the snow for water.
Another lamb on the farm had died, so in order to preserve the living lamb Mr Jones took special measures.
"We took the skin off the dead lamb and put it on the miracle lamb and, hey ho, it gets a new mother. It's a happy ending in a dire situation," he said.
"She is a little girl so she will be kept for breeding stock and will be very welcome after all those we have lost."
Mr Jones said apart from relaxing the burial rules for seven days to allow farmers to dispose of dead stock, the Welsh government had said there would be no other help for them.
The relaxation of strict EU rules has applied only to farms in certain areas where collectors of fallen stock cannot reach them.
He added: "All I can hope and pray from this disaster is the great British public gets behind all farmers in Britain and buys their products."