Wylfa: Anglesey nuclear reactor plans move forward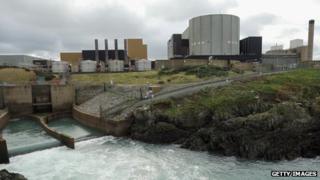 Nuclear regulators have signed an agreement marking the start of plans to build new reactors in north Wales.
The deal clears the way for Horizon Nuclear Power to submit initial proposals for a new power station at Wylfa on Anglesey.
Horizon's owner Hitachi wants to build new Advanced Boiling Water Reactors (ABWRs) in the UK, including at Wylfa.
ABWR plants are in operation at four sites in Japan, but have yet to be approved in Britain.
The agreement between the Office for Nuclear Regulation (ONR) and Horizon will be seen as one of the first concrete milestones on the long road to building a new nuclear plant on Anglesey, and at Oldbury in Gloucestershire.
It signals the start of the technical process known as the generic assessment design (GDA), which makes a detailed examination of all aspects surrounding nuclear reactors. The review of the designs and final licensing could take several years.
The last new reactor design to be agreed was in December last year for energy firms EDF and Areva, for sites at Hinkley Point, Somerset, and Sizewell at Suffolk.
The process to approve those designs took five years, costing an estimated £35m.
'Key early step'
The new deal signed off by the ONR and Horizon-Hitachi ensures that the nuclear developers will foot the entire bill for putting the new ABWR designs under the microscope.
But the bill for assessing the reactor designs is seen as a tiny proportion of what could be an £8bn project for Anglesey.
Horizon's chief operating officer, Alan Raymant said: "Now that the assessment agreements are in place, Hitachi-GE will be able to begin a meaningful preparatory process for their first major submissions to the regulator later this year."
"GDA is a long term and rigorous process, which will ultimately determine whether the regulators will consider the ABWR suitable for construction in the UK."
Ken Sato, the general manager for licensing at Hitachi Europe, added: "We are very pleased to have made such swift progress over the recent months.
"This is a key early step and we look forward to the development of between four and six ABWR reactors in the UK."