Snowdon rescue: Group in trouble flag down RAF helicopter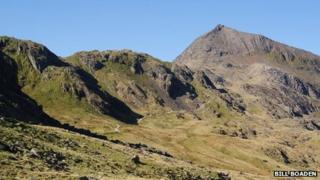 A group has flagged down an RAF rescue helicopter on a training mission after getting in trouble about 2,500ft (760m) up a Snowdonia ridge.
The two men and a woman were on Crib Goch early on Saturday afternoon when they got into difficulty.
They waved to the helicopter which is based at RAF Valley on Anglesey and were winched aboard before being flown to safety.
Ice and snow remain on the peak's higher slopes.
It follows a series of rescues in Snowdonia in poor weather at the end of March and over the Easter weekend.