Cyclists in Gwynedd risking lives in railway shortcut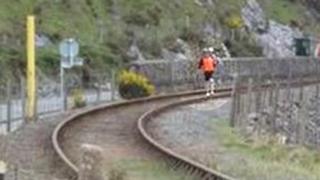 Some cyclists have been taking a potentially fatal shortcut along a railway track to avoid a road diversion.
British Transport Police (BTP) said the riders in Penrhyndeudraeth in Gwynedd also risked being prosecuted for trespass.
A diversion was set up for works between Llandecwyn and Penrhyndeudraeth railway stations to be carried out.
A BTP spokesman warned anyone caught in future will be fined.
'Gamble'
Sgt Tony Stamp said: "Trespass may not sound like a serious offence but in the unforgiving environment of the railway it can be fatal.
"Train drivers will not be expecting anyone other than railway workers to be on the line, and by the time they see someone trespassing, it could be too late.
"Anyone who trespasses onto the railway is taking a gamble with their own lives, as well as the lives of all the staff and passengers travelling on the trains."
BTP officers will be patrolling the area over the coming months and anyone caught trespassing could be handed a penalty notice of £50.
Police asked people to report any trespassing by contacting the BTP on 0800 40 50 40 or Crimestoppers on 0800 555 111.