Alexandra Hotel, Llandudno fire: Owner urges smoking law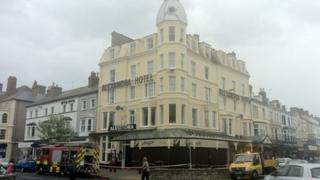 An owner wants a law banning smoking in hotel rooms after his establishment was badly damaged in a fire.
John Humberstone said he was certain that a guest smoking in a room was the cause of the blaze in the Alexandra Hotel in Llandudno, Conwy, a week ago.
Part of the Grade II building's roof was lost, some ceilings fell down and lower floors suffered water damage.
Mr Humberstone said his hotel's no smoking rule was very difficult to enforce.
"I would like to see very severe legislation introduced by parliament, not a by-law from the local authority.
He said drink-drivers were treated far more seriously than anyone smoking in hotels.
"The difference is that a drink-driver can kill two, three or four people in a car crash and a smoker can kill maybe hundreds in a hotel fire."
The five-storey, 18-bedroom building was evacuated after the blaze broke out just after 20:00 BST last Sunday, with all the guests and staff safely accounted for.
Appliances were sent from Llandudno, Conwy, Colwyn Bay and Llanfairfechan, along with an aerial ladder platform and incident command unit from Rhyl.
Breathing apparatus
Firefighters used breathing apparatus and hose reel and other jets to tackle the blaze and search the hotel.
But Mr Humberstone, who took over the semi-derelict Alexandra Hotel two years ago, said it was fortunate most people were still up at the time and were not in their rooms.
He said it was ridiculous that there was no law preventing guests from smoking in their rooms, even though the hotel states clearly on signs in the building and on the website that it is no smoking.
The hotelier added that he had no idea who had started the blaze.
"But even if I did know all that would happen is that the local authority would issue a maximum £33 fixed penalty. You get more for dropping a cigarette on Mostyn Street."
Mr Humberstone, who managed to reopen the hotel restaurant, said the cost of the blaze was still being assessed.