Gwynedd play scheme closures prompt 'roaming streets' fear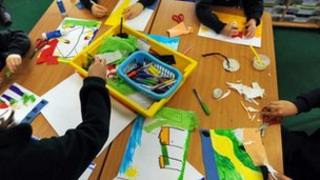 Children may be left to roam the streets in school holidays as play schemes in parts of Gwynedd face closure, community leaders have warned.
Gwynedd council said Welsh government grants under the Cymorth scheme had ended but other sources of funding could be sought.
The Welsh government said it was up to the council to decide what to fund from a new Families First grant programme.
But campaigners say some projects are not eligible under the new rules.
Mererid Mair, a community worker at Eglwys Noddfa church in Caernarfon, says 150 children will lose out when its play scheme ends.
"With the changes [in grants] we've been told there will be no room for children-only play schemes," she told BBC Radio Cymru's Taro'r Post programme.
"This is going to affect one of the most deprived areas in Gwynedd.
"It is a fun project with each two hour session allowing children to both play freely, and to get involved in creative projects - which some of them would not otherwise get the opportunity to do."
Dorothy Bulled, a former mayor of Bangor and the chair of the Ty Cegin centre in Maesgeirchen, Bangor, believes around 100 children could be affected on an estate where 4,000 people live.
'Whole family'
"Before this we've had funding for years for a six week summer play scheme for eight to 14-year-olds," she said.
"I'm worried they will be on the streets. I just want people to realise how important the place is to us."
Paul Thomas, Gwynedd Council's 'Healthy Gwynedd' cabinet member, said that in the past the Welsh government's Cymorth initiative had funded a number of holiday play schemes across the county.
However, the Welsh government recently decided to bring Cymorth to an end and to replace it with the new Families First initiative, he said.
"Under Families First, the Welsh government expects councils to commission strategic services to support the whole family.
"Here in Gwynedd we have developed a range of initiatives to promote positive parenting, to support families to become more financially literate and to find jobs, to provide opportunities for families to take part in sports and leisure activities and to support parents and families during their children's early years education.
'Prepare for changes'
"As a result of the national changes, a number of smaller scale schemes no longer qualify for Families First funding."
Mr Thomas added that the council had alerted the organisations involved, and had given them advice on where they could find alternative funding.
Permission had also been granted to extend the county's Cymorth-funded initiatives for an additional 12 months up to 31 March 2013, to "allow additional time for the organisations to prepare for the changes".
He added that during that period 20 play schemes across Gwynedd received funding support for their activities.
The Welsh government said that since April 2012 funding has been available to local authorities under its Families First grant programme to support the delivery of services to children, young people and families in their areas.
"It is, therefore, the responsibility of Gwynedd County Council to develop its Families First programme to meet local need and to make decisions on how the funding is allocated," it said.