Colwyn Bay FC wins Conference North award for warm welcome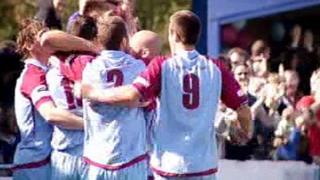 Colwyn Bay have won an award from fellow football clubs for their warm welcome and the behaviour of travelling fans.
The Conference North side was voted "respect" team of the year at the Conference clubs' annual awards.
"It came as quite a shock when the award was announced as we are not used to winning things," said chairman Bob Paton.
It came at the end of the club's second season in the division.
The award, presented at a ceremony in Newport, recognises the efforts a club have gone to ensure good working relations with officials, hospitality to visiting clubs and fans, work with the local community and behaviour of travelling supporters.
Mr Paton added: "When the significance of the award was explained it meant a lot to us.
"It seems people have been impressed with the reception and welcome they received at the Red Lion Foods Stadium last season.
"We pride ourselves on being a family club at Colwyn Bay."
He said the club's Football in the Community scheme had started a number of projects over the last few months, which reflected its commitment to Colwyn Bay and the wider community.