Conwy's rogue tippers face number-plate cameras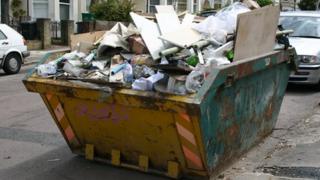 Illegal waste-tippers dumping rubbish at Conwy refuse sites could soon be caught on camera.
The council is installing number-plate recognition cameras at tips in Abergele and Mochdre to combat "excessive" trade waste being left unlawfully.
The tips are free to use for residents, but officials say they are determined to clamp down on rogue operators.
"They're costing the council taxpayers of Conwy money," said cabinet member Mike Priestly.
"Staff at the two household rubbish sites have expressed concern that rogue traders are illegally dumping waste.
"In one recent example, colleagues saw two men and a van come in with shovels and spend two hours putting builders' rubble into the skips.
"People like that are causing traffic congestion, they're making the place more dangerous."
Conwy council said it understood that at least four other local authorities in Wales have adopted similar measures to tackle waste dumping.
The new cameras are expected to be operational in the next few weeks, and will help the council catch traders who are breaking the law.
Unfair and illegal
"Often a builder will charge for taking the waste away, but by dumping the rubbish at council sites, it's the residents who end up paying to get rid of it - a double whammy," added Mr Priestly, who is responsible for for highways, environment and sustainability on the council cabinet.
"Illegal dumping is also unfair on bona fide traders who have to go through the proper channels to get rid of waste."
But the council was also keen to stress that the facilities in the two towns remains open to householders across the authority.
"Residents of Conwy county shouldn't be worried if they come to dispose of household waste," said Mr Priestly.
"If you live in the area and you have waste to get rid of, you're welcome to use the sites as often as you need to."