Pwllheli Sailing Academy delayed by 'technical problems'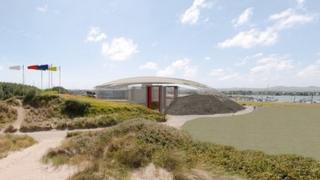 The new £8.3m National Sailing Academy in Gwynedd has been delayed by more than a year due to problems with the tendering process.
Gwynedd council says "technical issues" mean the process will have to begin again.
The building at Pwllheli had been due to open this September.
Pwllheli Chamber of Trade members say they are disappointed because the scheme would bring much needed business to the town.
Chamber of Trade vice-chair, Andrew Picken, said members were "resigned" to problems at the marina.
He added that it was "a major disappointment obviously, because of the amount of business an event brings into Pwllheli.
"Hopefully it'll get done as soon as possible."
'Deadly important'
Mr Picken said events at the beginning and end of the season were especially important to help "elongate the season".
"For Pwllheli it's deadly important that the sailing academy happens as it's very, very quiet at the moment.
"We need to get people into the town," he said.
Gwynedd council said the first phase of the project had been completed with the relocation of a road on the site.
A spokesperson said the delay was due to technical problems which had arisen during the tendering process for building work on the academy.
"As a result it is expected that building work on the academy with begin in the autumn and the academy will be completed by the end of 2014," they said.
The spokesperson added that the delay would not affect other works, such as the dredging of the marina, which is covered by a separate contract.