Straw building for RSPB nature reserve at Llandudno Junction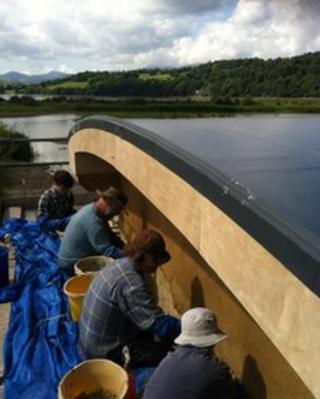 A conservation charity has constructed the latest building at a north Wales nature reserve out of straw.
But the RSPB at Llandudno Junction says despite many jokes, it cannot be blown down - by the wind or even a "big bad wolf".
Staff say they wanted the 'lookout' to be as sustainable and as environmentally friendly as possible.
When finished, it will be used as a viewing area, an indoor classroom for groups and a room for exhibitions.
Project manager Laura Kudelska said: "There have been plenty of wisecracks about the fairy tale of the three little pigs.
"But with an 11 ton roof, you can't blow this straw house anywhere, so we know we're nice and safe.
Wooden frame
"The wind has had a really good go at it since we put it up. We've had some really strong winds, and it's been absolutely fine."
The building is on the edge of a lagoon used by nesting birds, close to the River Conwy and the mountains of Snowdonia.
The walls are made out of straw bales piled on top of each other within a wooden frame.
There is also straw underneath the floor and inside a wooden framework to make the roof.
The whole thing is made waterproof with a rubber membrane on top of the roof and a coat of render on the outside of the walls.
Reserve manager Julian Hughes said: "Each bale of straw had to be dressed.
"That meant stamping on it to get rid of any bends that occurred when the machine baled it and making the ends square so that they would fit together.
Careful planning
"This was the time-consuming bit and resulted in a few 'ouches' as strands of straw went up your fingernails.
"Unlike bricks, the bales aren't all exactly the same size so perhaps it was more like dry-stone walling, having to find a bale that would be just right.
"Sometimes we had to split a bale if we needed a smaller piece."
The building is nearly complete, and is currently being filled with electric wiring.
Ms Kudelska added: "We wanted to construct something that was as sustainable as possible, using materials from close to the site.
"But it did mean some careful planning when it came to getting the electrical wiring in place.
"You can't screw things into straw, so we've inserted rods of hazel wood into the bales to hold the plug sockets and the light switches.
"We've had to plan everywhere we think we're going to want to screw anything into the wall in advance."
The new building is part of a programme of improvements at the RSPB reserve in Llandudno Junction, including a newly surfaced car park.