Conwy workmen's 'incredible' medieval house find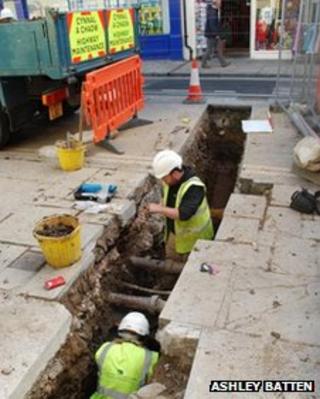 The remains of a medieval house and cesspit that could date back to the time of the 13th Century Conwy Castle have been uncovered by workmen.
The remains of a road and other artefacts have also been found in Castle Street about 100 metres from the castle itself.
Contractors working for Dwr Cymru Welsh Water made the find in May.
Experts say the finds are "incredibly important" and could provide a new insight into medieval Conwy.
Ashley Batten, senior planning archaeologist with the Gwynedd Archaeological Planning Service, said the remains could date from before the revolt against English forces, when it is thought that the entire town was burnt to the ground about 1401.
The earliest upstanding domestic building within the town walls is the National Trust run Ty Aberconwy which is dated between 1417-20.
The latest find is "incredibly important," Mr Batten said.
"The key thing is the remains are deeply stratified remains. There are lots of layers of activity as you would expect in an urban area.
He added a "medieval cross section" of what was hidden under the ground had been uncovered by a trench dug by the workmen installing a sewage pipe.
Also found were items of medieval glazed pottery, coins and metalwork which will give details about medieval Conwy once they have been researched in post-excavation work, he said.
"It gives us an insight into medieval Conwy which may predate the Glyndwr revolts."
In a statement Dwr Cymru Welsh Water said: "During the course of our work on Castle Street, we have found items and features of archaeological interest. These have included remains of a medieval road, coins and pieces of pottery.
"To ensure any finds were preserved and accurately recorded, we employed the services of Gwynedd Archaeological Trust. Their team has remained with us on site during the course of the work.
"The finds have naturally slowed the progress of the work so we have ensured businesses in the area are kept fully updated on developments. We would like to thank them for their continued cooperation."