Gillian Given died after 999 call advice, inquest told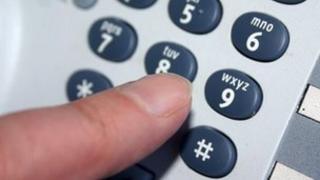 A woman died at home two hours after a 999 telephone assessment in which it was decided she did not need an ambulance, an inquest heard.
A coroner said neglect played a part in the death of retired nurse Gillian Given, 58, from Abergele, Conwy county.
The hearing was told she was advised to take painkillers and wait for a GP visit after her husband dialled 999.
North Wales Central coroner John Gittins said he would be recommending changes at the call handling centre.
The NHS Direct nurse who dealt with the assessment for the ambulance service has since resigned, the inquest heard.
It was told that Mrs Given died on 16 July, 2012, having been taken ill that morning.
Her husband, retired licensee James Given, called the Gwrych Medical Centre in Abergele and spoke to a receptionist who said that a doctor would visit that afternoon but shortly afterwards advised him to call 999, which he did.
The inquest was told he was put through to Deborah Evans, based in the NHS Direct call centre in Swansea, and she went through a series of questions with the path followed based on the responses of Mr and Mrs Given.
She felt an ambulance was not needed as Mrs Given's main concern was abdominal pains, and she urged her to take painkillers until the GP arrived.
A post-mortem examination revealed she had severe heart disease.
Mrs Evans told the inquest that the actions taken depended on the patient's response.
The coroner asked: "When you eventually reach an outcome it is the computer which decides whether you send an ambulance or not?"
'Instinct'
She replied: "Yes."
The coroner commented: "Having listened to the telephone call Mrs Given appears to have been in an incredible amount of pain."
Asked whether she had felt any "instinct" that an ambulance should have been called, Mrs Evans replied: "Yes".
NHS Direct manager Stephanie Kneath, who conducted an inquiry after Mr Given had called to complain on the night of his wife's death, said it appeared not enough questions had been asked of Mrs Given about the length of time she had been in pain and exactly where the pain was.
If Mrs Evans had remained in the job she would have received further training and issues arising from the case had been acted upon, she told the hearing.
Neglect
Asked by the coroner whether there was any leeway for the nurses to deviate from the computer program, she replied: "The system is to support their clinical knowledge."
Both Mrs Evans and Mrs Kneath said that the call centre could be rather noisy at times which could lead to nurses not hearing responses correctly.
Recording a verdict of death from natural causes, Mr Gittins said he did not believe there had been a systemic failure but a failure to establish the proper route to take - in other words human error - amounted to neglect which contributed to Mrs Given's death.
He said he intended to make a Rule 43 recommendation which is aimed at preventing tragedies that the ambulance trust examine the working environment at its call centre to improve soundproofing and isolate operators more.
The ambulance service has been asked to comment.
From April 2007, NHS Direct Wales became part of the Welsh Ambulance Services NHS Trust.