Colwyn Bay's new £6m beach boosts business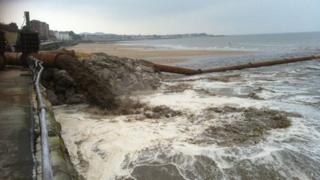 Business is said to be booming in a north Wales seaside town after the creation of a new £6m beach.
Half a million tonnes of sand was pumped onto a beach at Colwyn Bay in April to improve tourism and sea defences.
The Bay of Colwyn Business Network said footfall had risen by 5% in the two months since the beach opened.
It is part of a range of regeneration projects in Conwy county borough totalling £52m.
Engineers said in April that the beach once had a lot more sand but it had been washed away over the decades.
The extra sand was dredged by boat from a sandbank 20 miles (32km) out to sea, then pumped to shore via a pipeline.
It also improved the resort's sea defences by reducing the impact of fierce waves which regularly batter the promenade, particularly during the winter months.
Rupert Moon, spokesman for Conwy council's Bay Life regeneration programme, said: "Borne out of the need to protect the coast and promenade and a vision that we could go one bit further, creating the new dry beach became a pivotal part of the regeneration programme.
'Hidden gem'
"We knew it would have an impact on visitor levels to Colwyn Bay, but even we're pleasantly surprised at just how quickly local businesses have begun to see results.
"At a time when some hospitality businesses are struggling, to see a marked difference as a result of a local regeneration project is promising.
"We're excited to see what the future holds as Colwyn Bay continues to cement its position as north Wales' hidden gem, and attracts further external attention."
Ellingham House, a bed and breakfast in the town, has reported a 20% increase in takings, as well as attracting a noticeably higher footfall of visitors from further afield.
Proprietor Ian Davis said: "As a local resident as well as a business owner, it's fantastic to see the town on the up.
"There is so much to offer here and a wealth of opportunity for potential investors."
The business network said a further £3.7m had been invested in Porth Eirias, a new watersports centre, which will offer lessons in sailing, windsurfing and power boating as well as kayak and canoe hire.
There are also plans to pump more sand onto the beach in future.