Snowdon Race organisers want peak closed for safety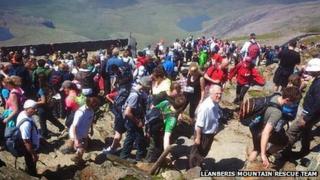 Organisers of the annual Snowdon Race want the peak to be closed to walkers on race days claiming it is "too busy".
They warn a change to the course this year will mean 600 runners will share the most congested part of the route on Saturday with other mountain users.
Snowdonia National Park, which looks after the peak, said there are no plans to close the mountain and the situation is being managed.
Last year 380,000 people visited the peak over 12 months.
The 38th Snowdon Race at the weekend will attract runners from all over the world to the top of Wales' highest mountain, which is 1,085m (3,560 ft) above sea level.
Organisers say that health and safety rules mean that runners will no longer be able to use the railway path for the final quarter of a mile (0.4km) on the way down during the 10 mile (16km) race.
"I'm a bit concerned about the popularity of the mountain, packed with people," said race organiser Stephen Edwards.
"It's a concern really trying to get everything spot on with the health and safety and making walkers aware that there's a race on Saturday and also making the runners aware that there are walkers on the footpath - that it is open and it isn't closed at all."
Mr Edwards said he thinks one possible answer could be to close the mountain during future events.
"I will be asking the park if we can close the mountain because if you don't ask you don't get. Most probably 'no' will be the answer but who knows in the future?"
Snowdon's warden, Helen Pye, said: "At the summit, on a really hot day on the weekend, it can be very, very busy and so some people tend to go to other mountains where it is quieter.
"But I think Snowdon brings so much money to the local area, and is such an amazing place, we do a lot of work to try and control the impact of that many visitors."
She offered some advice for people planning to come to Snowdon this weekend.
"Saturday is going to be very busy and there's going to be runners going at speed down the mountain - Sunday is definitely the day for hill walking," she said.