Llyn Padarn anglers vow to continue fight to keep lake clean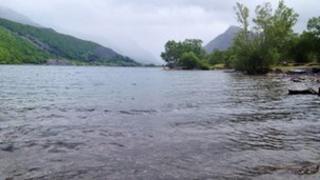 Anglers have vowed to continue their fight to make sure sewage is not allowed into a Snowdonia lake.
They want to make sure nutrients from sewage effluent will never again damage the water quality at Llyn Padarn in Llanberis as happened in 2009.
Dwr Cymru Welsh Water has said it plans to completely redesign the sewage system near the lake to prevent a recurrence.
However solicitors for the anglers say more needs to be done now.
A Natural Resources Wales (NRW) investigation looked into the 2009 incident.
A report presented to lake users last week said the nutrients also caused a toxic algal bloom - which can cause illness in humans and animals - forcing the closure of the lake for weeks at a time.
Stricter limits have since been imposed on a local sewage plant, and the water company has been given three months to submit proposals for improvements to the Llanberis waste water treatment works.
'Come clean'
Dwr Cymru Welsh Water has previously said it planned to change the area's sewerage network to avoid the lake, home to a rare fish - the Arctic charr.
The report said that since stricter limits were put in place at the sewage works the situation had "stabilised".
Last year Fish Legal, representing the Seiont, Gwyrfai and Llyfni Anglers who hold the fishing rights at Llyn Padarn, took action on behalf of the anglers.
At the time they said they were afraid that without action the Artic charr would be lost from the lake forever.
Now Fish Legal says that although it welcomes the report and steps taken to remedy the problem, there is still much more to be done.
"Whilst we welcome this step towards putting right past damage we want to see an end to all untreated sewage discharges," said Fish Legal solicitor William Rundle.
"We will continue putting pressure on both the regulator and the water company to make sure they come clean about what they dump in the lake, and so full preventative measures are put in place."