Rolo the 'dog sheep' famous for her herding skills has died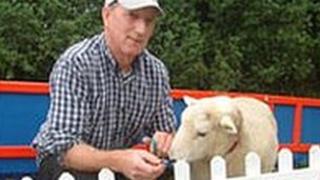 A sheep who gained international fame for her dog-like performing skills has died despite efforts to save her.
Rolo rose to stardom in 2006 after Emlyn Roberts tapped into her talents and started taking her to local shows to herd ducks.
Mr Roberts said the death last month had left him devastated as Rolo, eight, was like one of the family.
Talent seems to run in the family however as Rolo's nephew Horlicks looks set to follow in his aunt's footsteps.
In 2006 Rolo's talents spread far and wide and a film crew flew over from Korea to meet him.
She was better known attending shows and events closer to home however, where she would herd ducks along a specially built course and go on "walkabouts".
"It was so upsetting when Rolo died. I was devastated, which is silly for a man my age but really she was like one of the family," said Mr Roberts, from Llandwrog near Caernarfon, Gwynedd.
"She was very clever and she'd seemed absolutely fine. We'd been to a show just the previous week.
"I'd only seen her a minute before and she looked great, but when I looked again she was gone and despite trying everything there was nothing I could do.
"My neighbours came to help me. I was holding her, and I couldn't let her go. I have no idea why it happened."
Mr Roberts, who keeps sheep on land on Anglesey as well as three sheepdogs and ducks at home, said friends persuaded him to try again with another lamb which is related to Rolo.
"Fred, Horlick's father, was a half brother to Rolo and they seem to have the same way about them.
"He'd been with the other sheep for a year, so was a bit wild, but within an hour of me putting the collar around his neck he was great, trotting alongside me.
"He's doing a lot now, going through hoops... and as he has a natural tendency to go round my legs I can see this one doing heel work to music. It'll be nice to try something different."
As with Rolo, Horlicks is friends with Mr Robert's dogs, and also the ducks he will eventually be herding.
"I'm not sure if sheep are clever or whether I've been lucky with this breed, but Horlicks is already doing stuff by himself - he'll jump up and pinch my cap off my head," he added.
Like his aunt too Horlicks is partial to Weetabix and Shredded Wheat, cream crackers and Marie biscuits - along with some sheep nuts and duck food.
"He's not in the same league as Rolo yet but he's getting there," he said.