Aled Williams, 22, jailed for Anglesey death crash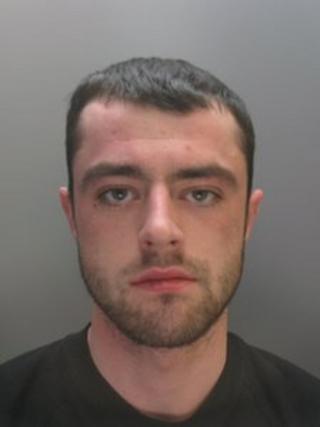 A drink-driver who caused the death of a friend when he lost control of a car has been jailed for 40 months.
Aled Williams, 22, of Llanfaethlu, Anglesey, admitted causing the death by careless driving of 32-year-old passenger Philip Pilbeam on 2 March this year.
Caernarfon Crown Court heard Williams's alcohol breath count was 57, against the legal limit of 35.
Judge Merfyn Hughes QC also banned Williams from driving for five years.
Sentencing Williams, he said: "Yet again a life has been lost when a young driver has taken drink and lost control of his vehicle containing a number of passengers."
He added: "That in this case it was your friend who was killed is a bitter irony with which you will have to live for the rest of your life."
The court heard Mr Pilbeam, whose son was born just before Christmas last year, was once a Welsh junior international fell-runner and worked as a cafe assistant at Morrisons in Holyhead.
He left a girlfriend, Catherine, and his baby son Adam.
His father, a retired North Wales Police officer, told the court in a family impact statement their lives had been torn apart by the "needless death of our precious son".
Elen Owen, defending, said Williams was within the speed limit and clipped the roadside in "a case of momentary inattention".
The judge said a group of friends had been drinking in a pub and Williams then drove along a narrow country road.
He added: "The simple fact is you, because you had taken drink, lost control on a right-hand bend.
"You tried to correct it but eventually mounted the verge on the left-hand side and overturned.
"Unfortunately Mr Pilbeam was trapped under the car. At least he must have died immediately."