Two flood warnings after heavy rain overnight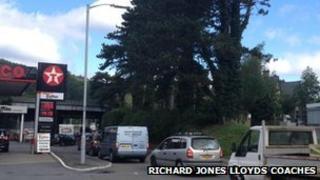 Two flood warnings have been issued in mid Wales after heavy rain overnight.
The downpour also caused a landslide on the A487 near Esgaergeiliog in Gwynedd.
The two flood warnings by are for the Dyfi and Rheidiol rivers.
Natural Resources Wales (NRW) is advising people living near the Dyfi and Rheidiol to put their flood plan into action if they have one.
However, here are no reports of properties flooded.
The river Rheidiol peaked at about midday on Friday and a Natural Resources Wales spokeswoman said levels were now going down, although the flood warning would remain in place for the time being.
Inspection
Officers are monitoring the site with flood gates and sandbags to help those at risk.
A spokesperson said the Dyfi river had already peaked and caused some minor flooding of agricultural land in the Machynlleth area.
Flood alerts remain on the Vyrnwy, Upper Teifi, Dyfi, and Dysynni catchment areas, north Ceredigion, and the Mawddach and Wnion.
The landslide near Corris closed the A487, and although the road initially reopened on Friday morning, it was later closed again for inspection before traffic lights were put in place.
"Council engineers have carried out an inspection of the site and the road is now re-opened to traffic under traffic management lights whilst debris is removed from the site.
"We expect this work to be completed today," said a council spokesman.
Firefighters said they dealt with a few incidents of flooding overnight.
In Corris, firefighters pumped water out of a pensioner's house, while crews also attended two houses in the Aberystwyth area because of blocked drains.
BBC weather said there was heavy rain across Wales overnight.
At Capel Curig in Conwy two inches (50mm) of rain fell overnight with further heavy downpours near Brecon and Presteigne in the last two hours.
Conditions are expected to improve during the day as the rain is forecast to clear.