Bear Grylls presents Songs Of Praise from Wales Coastal Path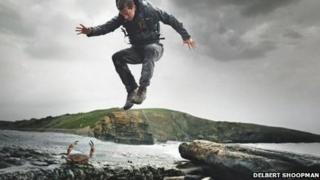 Adventurer Bear Grylls will take on a fresh challenge when he presents BBC Songs Of Praise for the first time from the Wales Coastal Path.
Sunday's programme is a celebration of the first anniversary of the 870-mile coastal route.
Grylls, the UK's chief scout, owns an island home off the coast of Gwynedd.
He said he wants to share his love for the rugged coastline and his commitment to God, and was honoured to be presenting the programme.
Grylls, his wife and three sons divide their time between St Tudwal's West off the Llyn Peninsula in north Wales and a converted barge on the River Thames.
Among his guests on the programme will be Welsh composer Karl Jenkins, cellist Julian Lloyd Webber, and one of the Three Welsh Tenors Rhys Meirion.
Splendour
Grylls said: "My Christian faith plays a core part in my life and I am honoured to be presenting Songs of Praise and to be joined by such interesting and talented guests.
"The programme is a television institution which is viewed with great affection by millions including me and my family."
The Wales Coastal Path stretches 870 miles (1,400km) from the River Dee in Flintshire in the north to Chepstow in south.
During its first year, it attracted nearly three million visitors and was worth an estimated £16m to the Welsh economy, according to Cardiff University research.
The adventurer said the special programme was a chance to celebrate the splendour of the "stunning" path with someone who knows it very well.
"For me faith is about being able to climb the biggest mountains in the world with the person who made them.
"I have steadily found a natural faith that has grown in my life ever since I was a little kid. It is the backbone of what I do."
He added: "I feel that Jesus is my friend, but it is also a messy sort of journey that has moments of doubt and struggle as well.
"Faith is about riding that out and finding life and joy and peace - and where better to experience those simple things than with the music and stunning scenery of the coastline of Wales?"
Wales Coastal Path is the first of three special editions of Songs Of Praise celebrating the country's musical heritage.
In November, West End star Connie Fisher will present the second programme, Climb Every Mountain, and next February, the third one, Llandaff: A city within a city will celebrate St David's Day.