Alcohol seized from under-age drinkers at Copperfest on Anglesey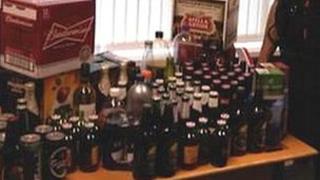 Police say there were fewer cases of anti-social behaviour at an Anglesey music festival after they targeted under-age drinkers.
Officers said a "teenage drinking binge" had been planned for the Copperfest music festival.
Over 100 bottles and cans were confiscated from the Amlwch event between 23 and 25 August.
Organisers said the police had acted appropriately as it was a "family-orientated" festival.
North Wales Police said only a small number of anti-social behaviour incidents were reported over the three days, which they said backed up their stance against alcohol misuse.
"It's not about wanting to spoil young people's fun and I'm sure many of them will still have enjoyed the music festival without the effects of alcohol," said Police Community Support Officer (PCSO) Les Ellis.
"Unfortunately we have seen before that when large numbers of youths and alcohol mix then problems in the form of anti-social behaviour may follow."
PCSO Ellis added that young people forget alcohol is confiscated for their own safety but officers often see young people hospitalised after consuming too much alcohol.
"Fortunately the event was well organised and managed and so the vast majority of those who attended were well behaved and enjoyed a great weekend," he added.
One of the event organisers, Jeff Palmer, said he supported the police action, which also included a "small number" of dispersal orders for disorderly behaviour.
He added that the "policing style" had suited the event as it was a family-orientated music festival.
All the alcohol confiscated was later destroyed.