Reunited Sutty and Peter Mincher meet RAF Valley rescuers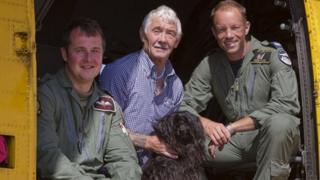 When hill walker Peter Mincher thanked a rescue helicopter crew for saving him after a fall his trusted companion Sutty was at his side.
But last time Sutty was near the RAF Valley's helicopter he was scared off by the noise of the rotors and survived alone for 10 days on the Atlantic Slabs at Snowdonia's Ogwen Bowl.
Mr Mincher was airlifted to hospital with serious injuries.
Walkers eventually found the dog in June, none the worse for his ordeal.
Spaniel type dog Sutty had to be lowered to safety in a rucksack to a waiting mountain safety team.
Owner Peter Mincher, from Wolverhampton, has little memory of what happened to him which required him to be flown to hospital for treatment at the end of May.
On his return trip, the helicopter's pilots told Mr Mincher how they had to hover the Sea King through thick cloud to reach him and members of Ogwen Valley Mountain Rescue Team.
Winchman Sgt Pete Wood left the helicopter and radioed instructions to Flt Lt Rob Jones at the controls so the helicopter could be manoeuvred into place, keeping the rotors clear of an outcrop of rocks.
Surviving on rainwater
After clearing the cloud, they flew to nearby Ysbyty Gwynedd Hospital, Bangor, where emergency staff stabilised Mr Mincher before he was transferred to a specialist hospital at Staffordshire.
Flt Lt Jones said: "It's amazing that he survived considering all the injuries that he had suffered - he's one fit guy for his age."
An RAF Valley spokesperson explained that during the rescue, Sutty "bolted out of sight".
"The dog spent 10 days in the general vicinity, surviving on pools of rainwater," he said.
Mountain rescuers returned to climb in the area to look for the dog and heard its barks.
"Amazingly, Sutty was hungry, but none the worse despite his ordeal," he said.
"Peter and Sutty were swiftly reunited and are now enjoying somewhat less adventurous walks together."