Bala service for paralysed rugby player Bryan 'Yogi' Davies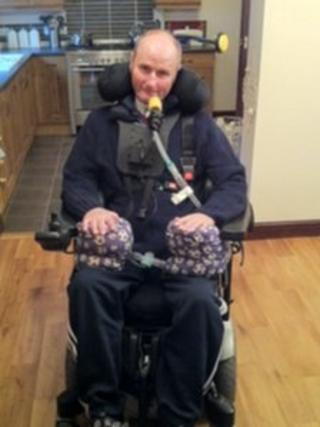 Several hundred people have attended a memorial service to celebrate the life of a Gwynedd rugby player who died six years after becoming paralysed in a match.
Welsh Rugby Union president Dennis Gethin and other senior officials were among those who paid their respects to Bryan "Yogi" Davies.
Mr Davies was captaining Bala in what was supposed to be his retirement game in 2007 when he was seriously injured.
The service was at Bala Rugby Club.
A private funeral will be held next week.
Mr Davies, 56, who was known to friends and family as Yogi, died at his home in August surrounded by his family.
The accident happened as the hooker was playing for Bala against Nant Conwy in April 2007.
He spent 18 months in hospital before moving back home, but he returned to hospital for another 18 months after suffering a collapsed lung.
An appeal fund was launched and donations poured in from across Wales, raising more than £200,000 to adapt Mr Davies's Bala home.
About £10,000 remains in the fund, which will be closed down, with the money going towards improving facilities for Bala Rugby Club's juniors.
'Worked so hard'
Club chairman Tony Parry said Mr Davies had made plans for an extension at the club.
"He had also been round the people who live near the rugby field to explain the plans - the application was for a new kitchen and room for the juniors to sit down to eat," he said.
"We are the only club in north Wales where the kids can't get food after a match. Hopefully, a year from now, this will have changed."
Mr Parry said the appeal committee was "grateful to all those who have worked so hard over the years and have contributed so generously, initially to get Yogi home and then to enable him to stay home".
"It's amazing all the things that have been going on over the years to raise money, all over north Wales," he said.
Welsh Rugby Union leaders attended the service.
Mr Gethin said: "Every time I met him, he was an absolute inspiration - and Wales and Welsh rugby is a far poorer place without him."
Mr Davies is survived by his wife, son and daughter.