Llanddulas water bike rider rescued by Rhyl RNLI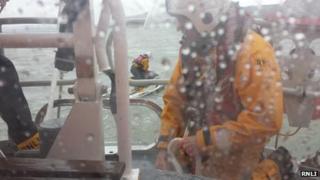 A water biker rider was rescued after spending 90 minutes in the sea in near gale-force conditions off the Conwy coast.
The RNLI, who sent a crew from Rhyl, said the incident at Llanddulas could have "ended differently" on Sunday afternoon.
A small rigid-inflatable (RIB) had gone to help the man but the vessel was operating "on its limit" due to the windy conditions, said the RNLI.
Everyone was returned to shore safely.
A RNLI spokesperson said: "The man and the RIB crew were given some safety advice by the local coastguard on their return to shore as this could have ended differently if the jet ski was about a mile further out in the breaking seas and strong winds and rain."