Bodnant Garden's £150,000 Waterfall Bridge repairs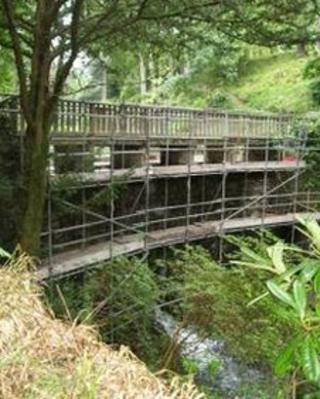 A waterfall bridge at a National Trust garden in Conwy is undergoing £150,000 of repairs as part of a project to open up more of the site.
Features to promote wildlife, such as an eel pass, will be included in the project at Bodnant Garden.
Later another bridge is planned upstream on the River Hiraethlyn.
Parts of the garden which are currently private will then be unveiled to the public in 2015.
The garden's founder Henry Pochin bought the house and estate of Bodnant in the 1870s and remodelled the valley garden.
The bridge was added in the early 1900s when a dam was built on the River Hiraethlyn to enhance the dramatic scenery.
"Along with the pin mill and laburnum arch the waterfall bridge must be the image most photographed by the hundreds of thousands of visitors who come to the garden each year," said Adam Salvin from the trust.
"However the time has come for repairs as the dam has suffered from water erosion over the years, and so over the next 12 weeks it will be pressure grouted with an infill which is environmentally safe for the river and the stone frontage will be re-pointed."
He added the bridge timber will also be removed and renovated and an eel pass will be installed as part of plans to promote the river's wildlife.
A new bridge will then be built further upstream to allow an accessible all-weather walkway in part of the garden which is currently private.
Last year £60,000 was spent on de-silting works to help prevent flooding in the garden and talks with local landowners, farmers and other authorities are ongoing about work upstream on the River Hiraethlyn to try and find a long-term solution, he added.