Llanfairtalhaiarn villagers' concern over flooding return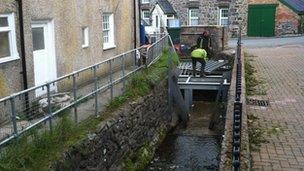 People in a village in Conwy are worried they will not be well enough protected from flooding this coming winter.
Llanfairtalhaiarn near Abergele was severely flooded in November 2012.
The stream that flows under the village - Nant Barrog - overflowed, leaving some homes under four feet of water.
Environmental body Natural Resources Wales (NRW) has already spent more than £91,000 to reduce the chance of it happening again.
But villagers say some other important work has been delayed because there is not enough money available to do it.
Natural Resources Wales says the project will be completed as soon as possible.
Geraint Jones, the chairman of Llanfairtalhaiarn Community Council, said: "I understand there are massive constraints on public sector funding at the moment, and there will be for some time.
"But when people's lives and businesses are concerned, I think it's imperative that they get on and do it.
"The residents have been very patient up until now - they've dealt with cleaning up their homes themselves.
"The frustrating thing for everybody is that they don't see things happening quick enough."
The work that still needs to be done includes fitting new one-way drains so that if the water does come into the village, it has got a way out.
The culvert under the village is still partly full of gravel after the flood and needs clearing out.
Mr Jones added: "These works will happen, we understand that, but I believe there are issues with funding and funding authorisation.
"We are nearly a year down the road, and still waiting for this work to be implemented.
"Funding is no excuse. When you have an event like this that affects so many people, so traumatically, there should be no question. The work should be designed and implemented as soon as possible.
"I know for a fact that people will be nervous. They will hear the rain on the windows and the roofs and wonder what's going to happen, because the work that's been promised hasn't happened. "
A spokesman for Natural Resources Wales said: "In the past 11 months we have carried out a programme of works to help reduce the risk of flooding for people in Llanfairtalhaiarn.
"The first phase of this has now been completed and has seen alarms and CCTV installed to monitor the Nant Barrog, and a new debris screen upstream to reduce the risk of the culvert blocking.
"We've developed a community flood plan and identified flood wardens.
"All residents at risk have been offered individual property protection products such as flood gates for doorways
"The priorities for the next phase have also been identified.
"So far we have spent more than £91,000 with a further £132,000 of work in the pipeline."
The culvert underneath the village belongs to Conwy council which says it is discussing ways of getting it cleared.
Related Internet Links
The BBC is not responsible for the content of external sites.