Bangor University: Brain research looks at how we shop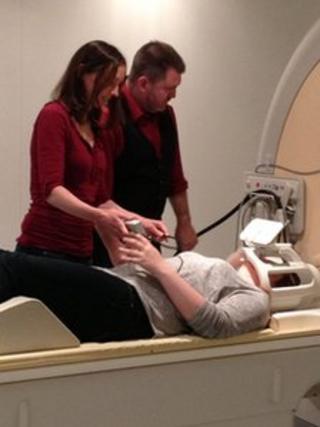 Psychologists are trying to find out what goes through shoppers' heads when they pick up supermarket bargains.
Using a £3m medical MRI scanner, Bangor University researchers are simulating a typical £80 weekly shop.
Volunteers have to choose from an array of discounts and buy-one-get-one-free deals displayed on a screen inside the scanner.
The study will analyse the rational and emotional workings of the brain while shopping.
The research is led by the university and shopping behaviour experts and backed by three multi-national grocery and healthcare companies.
"We know from previous research that the brain behaves illogically when faced with the sort of information overload that shoppers are faced with in a typical supermarket," said Phillip Adcock, managing director of Shopping Behaviour Xplained (SBXL).
"It has shown us that nearly 20% of shoppers are likely to put special offers in their basket even if they are more expensive than the normal product, and we know that nearly half of shoppers ignore buy-one-get-one-free items and only choose one.
"Now we have a reliable and scientific way of validating this research and understanding exactly what is happening in the brain during the weekly shop."
Preliminary results suggest that consumers only respond rationally and mathematically for the first 23 minutes of their shop, after which they begin to think with the emotional part of their brain which can only guess at value for money.
They also indicate that after 40 minutes - the time taken for a typical weekly shop - the brain becomes tired and effectively shuts down, ceasing to form rational thoughts altogether.
'Special offers'
The MRI scanner was originally purchased to help diagnose brain tumours and abnormalities in brain function such as forms of epilepsy.
However, senior lecturer in psychology at Bangor University, Dr Paul Mullins, believes research such as this will help to expand its use beyond the physical and into the actual thought processes themselves.
He said the MRI system allowed researchers to investigate the "neural basis of decision making".
"Using advanced brain imaging techniques we hope to get a better understanding of how shoppers respond to special offers," he added.
"This also gives us the chance to bring our research on decision making into a real world context. We hope it'll tell us a lot about how we respond to different types of competing information in the world around us.
"In particular we are interested in how factors we may be unconsciously aware of can override what might be considered the optimal choice, based on conscious judgements."