Crew 'fatigue' may have played part in Holyhead ferry crash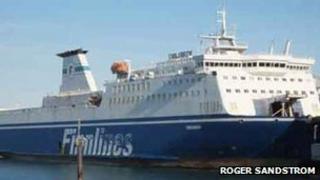 Crew fatigue may have played a part in a ship colliding with its berth at Holyhead Port, a report has found.
The Stena Line-chartered Finnarrow, with 77 passengers and 44 crew, was berthing just before 06:00 GMT on 16 February after travelling from Dublin.
An investigation by the Marine Accident Investigation Branch found the hull was punctured after contact with the berth, which led to the pump room flooding.
The crew was also said to be unfamiliar with the vessel's equipment.
No-one was hurt during the incident.
Finnarrow was chartered by Stena Line a month earlier to operate on the Holyhead to Dublin route while the usual ferry, Stena Nordica, was employed as a relief ship for other routes.
The report said Finnarrow normally operated in the Baltic Sea and had previously run between Kapellskar in Sweden and Naantali in Finland.
The ferry's stabiliser was left deployed during Finnarrow's final approach to the berth and it punctured the hull in the collision.
The report added the two captains and two chief officers on board were working alternate 12-hour shifts.
It said fatigue "might have contributed to the accident given the types of error made by the day master and chief officer and their work patterns leading up to the accident".
Finnlines Ship Management, which owns the vessel, said lessons had been learnt and circulated to all other vessels.