Harlech pool needs more users and volunteers to survive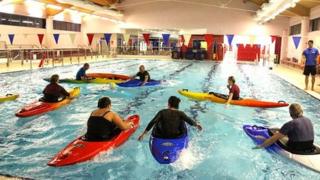 The future of a swimming pool in Gwynedd is again under threat less than five years after it was saved by a community group.
Directors at Harlech pool say not enough people swim there and there is also a lack of volunteers to help run the business.
The community took over the pool in 2010 after Gwynedd Council said it could no longer afford to run it.
An emergency meeting is being called to try to get more people to help.
Community company Harlech and Ardudwy Leisure was set up three years ago to run the pool.
It has carried out refurbishments and the pool building now includes a climbing wall and cafe.
"I think I've said this before it's either use it or lose it," said Dylan Hughes, one of the company directors.
"Obviously during the summer we get a lot of tourists using the place, and figures go up during school half-term holidays, but it's a quiet period now, and we'd like more people to use the facility."
Mr Hughes said there are currently only three company directors, and more volunteer directors are needed.
"I think we've got a fantastic facility here.
"We're very grateful to the community that have supported this and come here.
"There are a lot of positives but we'd like to see more of that to keep us going."
He added that "structured" events such as aqua-fit and kayaking were well supported, and there were plans to streamline events such as school swimming lessons to offer a deal to schools and to allow better use of staff.
"A problem we have too is that a lot of people think Gwynedd council still runs the place, or pays the wages of staff, but that's not the case we are totally independent.
"With the money we raised ourselves last year, including from the cafe and climbing wall, and grants we were about £7,000 short of the £280,000 we need to operate.
"But we are working hard to sort it out, and doing things like turning off the boilers overnight - unless it's very cold - to save money on gas to heat the pool."
Caerwyn Roberts, the local Gwynedd councillor for Harlech, said the facility is "vitally important" for the local community.
"Eight schools go there and the ability to swim is absolutely essential," he said.
An emergency meeting will be held on 21 January to try to get more people involved.
"We had 150 people present at the public meeting when there was a threat under Gwynedd council to close the pool, and I hope people will turn out again for this meeting," Mr Roberts added.