Storm damage repairs to cost Conwy council £5m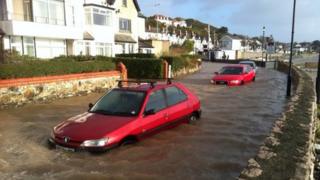 Storm damage in Conwy will cost more than £5m to repair, the county council has said.
Bad weather battered Wales' coastline in December and early January, with a wind speed of 87mph recorded in Conwy two days before Christmas.
The council said it had asked the Welsh government for help to repair sea defences following an inspection of sea defences.
The Welsh government said it was considering Conwy's bid.
Gale force winds and persistent heavy rain combined with high tides to cause widespread disruption and damage across Wales.
A Welsh government spokesperson said: "We have received correspondence from Conwy local authority in which they set out the anticipated costs to repair the damage caused by the recent storms.
"This includes damage to flood defences, promenades, the coast path and other coastal assets.
"This information is now being considered across government and we will respond as soon as we can."