Treffos lord to drop claim for Anglesey land rights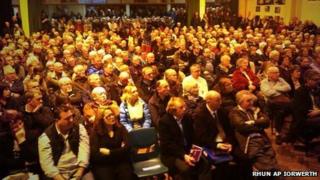 A lord of the manor says he will give up his pursuit of mineral rights on land affecting 4,000 homes on Anglesey, which sparked concern among residents.
Cheshire businessman Stephen Hayes holds the title of Lord of the Manor of Treffos on Anglesey and was trying to confirm his manorial rights.
Eight hundred people attended a meeting in Menai Bridge on the issue on Monday.
Mr Hayes has told BBC Wales he had been wrongly advised to pursue his claim and believes the rights to be "worthless".
His comments come after Ynys Mon AM Rhun ap Iorwerth told the meeting Mr Hayes's pursuit of the claim would be dropped.
Mr ap Iorwerth said he was planning to talk to the Land Registry and Mr Hayes again to try to resolve the issue causing "a headache and anxiety to people on Anglesey".
Manorial rights originated in the Middle Ages when land was divided between feudal lords such as the church or Crown and gave the holder rights to hunt, fish, and mine for minerals.
Lords of the manor had a deadline of October 2013 to register their claims or see them extinguished.
Monday's public meeting was called after Mr Hayes wrote to around 4,000 householders on the island informing them that he had registered his rights as Lord of the Treffos manor.
His claim covers an area of 10,500 acres (4,250 hectares) from the villages of Llanddona to Llanfairpwll, including the town of Menai Bridge on the east of the island.
Residents receiving information that the rights had been registered have become worried about restrictions on house sales, access to mortgages and loans. They were also afraid that companies using these rights could drill for shale gas on people's land.
'Drop this claim'
Some of the householders attending the meeting at Ysgol David Hughes in Menai Bridge were attempting to lift Mr Hayes's claim of manorial rights over their land.
Speaking after the meeting, Plaid Cymru AM Mr ap Iorwerth told BBC Wales that he had been in contact with Mr Hayes.
He said: "He suggested to me that he didn't want to push this.
"Just before the meeting he told me that he had decided enough was enough, he doesn't want to pursue this rights claim any further.
"My job now in the coming days is to talk with the Land Registry, with Mr Hayes again, to confirm that indeed he does want to drop this claim which has caused such a headache and anxiety to people on Anglesey."
Mr Hayes originally told the Land Registry that in order to "protect his investment" he objected to the applications to lift his rights.
The Land Registry has said this could lead to a land tribunal or court to decide the issue.
'Absurd'
Householders have until the end of February to consider fighting Mr Hayes's objection if it continues.
Mr Hayes said he had spent £35,000 on the matter since buying the title in 1992.
The title is currently for sale for £40,000 and has been offered to the affected landowners.
In January the issue was brought before Parliament where Ynys Mon MP Albert Owen organised a debate.
He said local residents were suffering anxiety and distress because of "absurd ancient property rights".