Two groups from Oxford Uni rescued in Snowdonia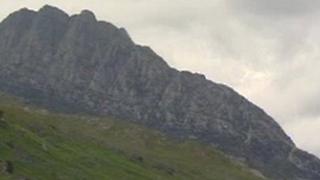 Two groups of people from Oxford University had to be rescued from mountains in Snowdonia at the weekend.
One group of five had to be led off Tryfan by the Ogwen mountain rescue team late on Saturday when one man suffered from cold and exhaustion.
Two men became stranded on the Lliwedd peak on Snowdon at 04.00 GMT on Sunday during an overnight operation and had to be led down by the Llanberis team.
There were five rescues in total over the weekend.
A party of four from Nantwich in Cheshire were brought down from Carnedd Llewellyn by Ogwen rescuers after night fell on Saturday. The team said the party were in snow and ice conditions for which they were not prepared.
Nine people from Dorset were helped down from near the summit of Snowdon as darkness fell, in an operation lasting five hours conducted by two groups from the Llanberis mountain rescue team.
On Sunday afternoon, a man from Manchester called the emergency services to say he had become stranded on the Watkin path on Snowdon after falling. He was assisted off the mountain.