Father-of-two wins £250,000 on lottery in Bethesda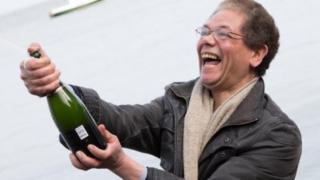 A Gwynedd father-of-two plans to buy his own home after winning £250,000 on the National Lottery.
Shop worker Lynval Allen has been renting accommodation since moving to Bethesda a decade ago and puts buying his own property and looking after his family at the top of his wish list.
He bought the £2 scratchcard while buying a bottle of wine and it follows a previous £100 win before Christmas.
"You think winning is something which happens to other people," he said.
"I was cooking my evening dinner and decided to go out and buy a bottle of wine. I was at the till and decided to try my luck with a £250,000 Yellow Scratchcard.
"I took it home and sat with a glass of wine as I scratched it," said Mr Allen.
"When I realised I really had won I immediately phoned my son and I had to convince him that it really was true.
"I then called Camelot who confirmed it. Then I really did know that it was no fake and no joke."
He bought the winning Scratchcard from Tesco Express in Bethesda.