145 Cardiff staff lose jobs at Macob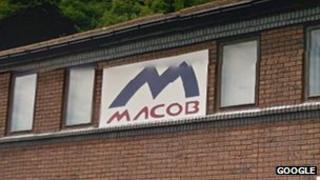 About 145 staff at property and construction group Macob in Cardiff have been made redundant.
It has been announced that a number of the Macob companies have entered administration, with the loss of an estimated 180 staff.
The others affected work in Chichester in West Sussex.
Macob Exchange, which owns the Coal Exchange in Cardiff Bay, is not affected by the move, administrators said.
The company went into administration on Tuesday, with Begbies Traynor appointed to oversee the company.
Administrators said the company had ceased to trade immediately, and the redundancies had followed.
John Roberts, chairman of the Macob group, said: "The prevailing trading conditions have made it impossible for the contracting companies to win work at viable rates."
Building projects
Macob was established in 1981 and has completed projects such as St David's Hospital in Cardiff, Pembroke Dock Community School in Pembrokeshire and has been working on the Bocam Park business park in Pencoed just off the M4 in Bridgend.
It has six divisions listed on its website including Macob Civil Engineering and Macob Developments.
Administrators said the future of the Macob Scaffolding division had been secured.
Macob Exchange has been holding talks with Cardiff council and Julian Hodge Bank about converting the Coal Exchange into a business and residential centre.
The building was once the hub of the coal and shipping industries in south Wales.
The Grade-II listed site had been used for live music and other events over the last few decades, although it was closed for a revamp in 2007 which did not happen before reopening in 2009.
A Welsh government spokesperson said: "At a time when indicators suggest the construction industry in Wales is recovering faster than elsewhere in the UK, this comes as disappointing news."