Ysgol Goronwy Owen: Former head defends PC telling pupils off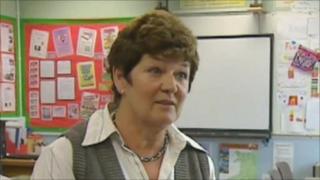 A former Anglesey head teacher has denied it was wrong to ask a police officer to tell pupils off for not smiling for a photo.
Ann Hughes, who was dismissed from Ysgol Goronwy Owen in Benllech in 2011, said the officer agreed "something had to be done".
She has been accused of being "excessive" in her response by inviting the officer in.
Mrs Hughes faces a General Teaching Council for Wales (GTCW) panel.
The hearing, at Ewloe in Flintshire, has been told by one mother that the involvement of police in the photo session was not appropriate.
Questioned about the impact on her son, the woman said: "He came home from school absolutely distraught.
'Not upset'
"He was crying his eyes out, saying he was never going to school again. He was terrified."
On Thursday, Mrs Hughes told the hearing the police officer had been making a pre-arranged visit. She said: "He was a resource I could depend on. We all agreed something had to be done."
She was questioned by the GTCW presenting officer Martin Jones about two pupils allegedly being upset.
"They left the school and were not see to be upset by anybody," she told the panel.
"At the time of leaving the school they were perfectly happy going home."
The hearing has been told the former head teacher faced a catalogue of complaints including failing to investigate and address bullying of two pupils, shouting excessively in the classroom and airing parents' complaints during assembly which potentially identified pupils.
'Worked together'
The panel has heard how five teachers went off sick at the same time in May 2011 and how children missed having their regular teachers.
Mrs Hughes said the cooperative relationship between staff had broken down on 16 May, 2011.
Mr Jones asked her whether she accepted responsibility for the rift.
Mrs Hughes said: "No, we worked together. I continued exactly the same. I gave the same opportunities, I treated them the same. I did try."
She said she asked the local education authority "numerous times" for help.
Mr Jones asked: "Wasn't it the reality by 2011 you had set your face entirely against those five teachers?"
Mrs Hughes replied: "Not at all, I had a great deal of respect for them."
She also disputed that there had been a breakdown in communication between the school and parents.
"I am not an unapproachable person in any shape or form," she added.
The hearing continues.