Five dogs stolen from owner's kennels in Betws Garmon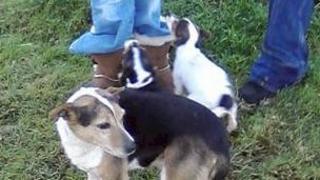 Five terrier-cross working dogs have been stolen from kennels in Gwynedd.
The dogs were taken from the kennels in a field opposite their owner's house on the A4085 Caernarfon to Beddgelert Road, near Betws Garmon.
The theft happened some time between 07:30 GMT on 3 March and 07:30 GMT on 4 March. One of the dogs was found several miles away in a poor condition.
In a separate incident, but during the same time, a black and white border collie was stolen from Waunfawr.
Police investigating the theft at Betws Garmon believe the thieves may have stolen one dog first and returned for the others later.
Anyone with information is asked to call 101.