Aurochs horn found at Dinas Dinlle beach in Gwynedd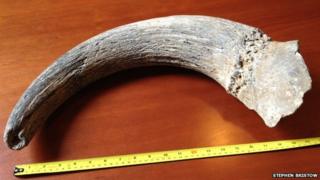 An animal horn thought to be 3,000 years old has been found on a beach in Gwynedd after the recent storms.
Engineer Derfel Hughes from Rhos Isaf made the discovery while walking at Dinas Dinlle, near Caernarfon.
Mr Hughes checked with museum experts who reckon it belonged to giant wild cattle called aurochs which became extinct in the 17th Century.
He gave it to a friend at the Greenwood Forest Park tourist attraction in Y Felinheli where it could go on show.
"Finding it was a total fluke," Mr Hughes told the Daily Post.
"I just happened to be in the right place at the right time.
'Fascinating'
"When I looked closer I thought it might be a tusk, like the one you would find on an elephant."
But he checked with National Museum Wales and the suggestion is that the horn belongs to an ancient breed of cattle called aurochs, according to Mr Hughes' friend Stephen Bristow, managing director at the forest park.
"It's a fascinating thing," he said.
Aurochs were grazing cattle which stood 2m tall (6ft). They were found in many parts of Great Britain and much further afield but became extinct when a female animal died in a forest in Poland in 1627.
Genetic studies have suggested most modern livestock are descended from cattle that arrived in Europe from the Neolithic Near East.
However, some aurochs may also have been domesticated, scientists say.
Ancient Roman leader Julius Caesar was said to have been impressed by the size of aurochs, saying the bulls were as big as elephants.
And Adolf Hitler wanted to recreate the cattle through selective breeding as a symbol of Nazi Germany's belief in racial superiority.