Pont Briwet temporary bridge plan scrapped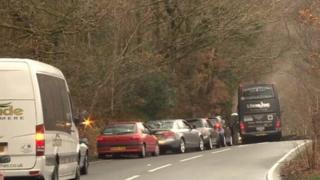 Plans to install a temporary bridge to link two sides of a Gwynedd river over the summer have been dropped.
The 154-year-old wooden Pont Briwet Bridge, which crosses the Afon Dwyryd River at Penrhyndeudraeth, was closed for good in January amid safety fears.
Gwynedd council planned to install a temporary bridge in May as work on a £20m road and rail crossing continues.
Instead, a convoy system will guide traffic on a detour along the A496 until at least December.
Originally it had been hoped the Grade II-listed bridge would remain open while work took place to build a new crossing by 2015.
But in January the council confirmed that Pont Briwet would close permanently amid safety fears, and said a temporary bridge would be installed in May.
The closure meant an eight-mile (12km) diversion for motorists via Maentwrog to the Harlech road, with buses replacing trains until the new railway line opens this summer.
Now, the council has confirmed that plans for the temporary road crossing have been shelved after safety fears due to increased traffic on the A496 between Maentwrog and Llandecwyn.
'Sharp corners'
Money which would have been used towards the temporary bridge will now fund a convoy system, in which a vehicle is employed to guide traffic between sets of temporary lights on the A496.
Dafydd Williams, chief engineer for Gwynedd council's transportation and street care department, said: "The A496 between Maentwrog and Llandecwyn is characterised by several pinch points, narrow stretches and sharp corners.
"Following concerns raised by a number of local people that the current high volume of traffic, and especially large vehicles, could cause a serious accident, the council's senior traffic engineers assessed the risk to road users.
"This assessment of the possible dangers has concluded that the council must act immediately to improve road safety.
"As a result, a temporary traffic convoy system will be in operation on the A496 between Maentwrog and Llandecwyn from Friday, 21 March and will remain operational until work is completed on the new Pont Briwet Bridge."
He added: "Whilst we appreciate that this will cause inconvenience to road users in the short-term, it will mean that the contractors will be able to concentrate their efforts on the construction of the replacement Pont Briwet which we now envisage will be completed in December 2014 - earlier than originally envisaged."
Tudur Williams, head teacher at Ysgol Ardudwy in Harlech, said it was "very, very disappointing" that a temporary bridge would not be put in place.
He added: "It's going to create more problems. It's going to create longer times if this system of traffic is put in.
"And also it's going to affect the local economy because some of the restaurants here already say that their trade has gone down, because people are not coming over from Porthmadog or the other way."
He added: "It seems that this area's been left out somehow.
"If we were in a more populated area, I'm sure something would've been done."
The council says the convoy system - in place daily between 06:30 GMT and 18:30 GMT - will ease traffic congestion and improve safety.
It says the decision followed concerns raised by members of the public and by travel charity Sustrans.