Snowdon pair rescued after snowfall on Crib Goch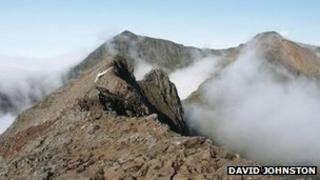 Two men had to be rescued from Snowdon after being stuck in snow on the Crib Goch ridge.
Members of Llanberis Mountain Rescue Team were taken close to the scene by a Sea King helicopter from RAF Valley, Anglesey, before they led the pair to safety.
They said the men, aged 25 and from the West Midlands, were not carrying the right equipment for the conditions.
The incident lasted for two hours on Saturday afternoon.