'Controlled explosion' for WW2 wind farm bomb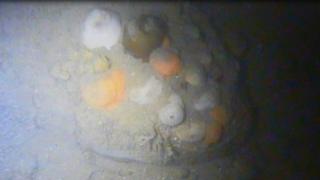 The first of three unexploded bombs found on the sea bed at a wind farm site off the north Wales coast has been blown up.
The World War Two bombs were found during construction work at the Gwynt y Mor wind farm in Liverpool Bay.
A specialist bomb disposal firm carried out a controlled explosion on one of the devices.
RWE Innogy said the bomb was safely disposed of, and work would now resume on constructing the wind farm.
"The first of the three unexploded bombs found in the offshore construction site at the end of January was successfully disposed of this morning following a controlled explosion," said RWE's Gwynt y Mor project director Toby Edmonds.
"As expected, the detonation had little impact on the surface of the sea.
"Two further bombs will be dealt with in a similar way in the coming days.
"During the operation, a 1,000m exclusion zone was put in place to ensure the safety of everyone involved and those operating close to the wind farm."
Gwynt y Mor is eight miles (13km) off the coast of Llandudno.
The wind farm is due for completion this year with 160 turbines producing enough electricity to supply 400,000 homes.