Original Welsh language bible on display at Ty Mawr Wybrnant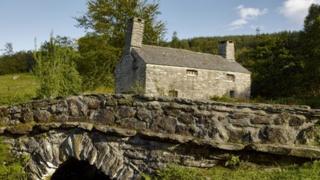 An original copy of the first Welsh language Bible is going on display in the home of its translator.
Ty Mawr Wybrnant near Penmachno, Conwy county, is where Bishop William Morgan was born in 1545.
The Bishop of Bangor is joining the local community in a symbolic ceremony to welcome the book, which is one of only 20 known copies remaining.
The copy will go on display at the house alongside more than 100 other Bibles in various languages.
The Bible was recently bought by the National Trust from Coleg Harlech, where it had been stored in a cupboard for 20 years.
Despite being over 400 years old, the leather bound copy is said to be in very good condition.
'Invaluable legacy'
Bishop Morgan's 1588 translation has widely been accredited as the single most important act in ensuring the survival of the Welsh language.
In a bid to reduce the Catholic Church's hold on society, Elizabeth I gave the bishop the go-ahead to translate both the New and Old Testaments from Greek and Hebrew into Welsh.
Nine years later, in 1588, a thousand copies were printed, about 800 of which were distributed to all the churches in Wales.
Rhys Evans, the National Trust's Snowdonia operations manager, said: "We're delighted and very proud to be able to have an original copy on show at the birthplace of the man responsible for translating it.
"We believe it's vital we commemorate this invaluable legacy."