Llanfairpwll campaign to stop smoking in public places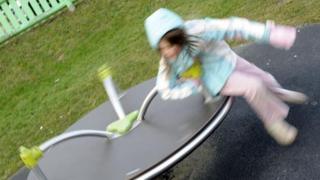 An Anglesey village is hoping to become smoke-free by asking people not to light up in public places.
Signs will be erected in Llanfairpwll urging people not to smoke but there will be no enforcement.
The voluntary scheme will apply to entrances to pubs and shops, as well as playgrounds and community facilities.
Smokers' group Forest said the smoking ban had been introduced to protect bar workers' health and there was no evidence smoking outside was harmful.
The campaign, which would not make smoking in public in the village illegal, was being launched at Ysgol Llanfairpwll on Tuesday.
Luned Edwards, Anglesey council's health and well-being project officer, said there had been a lot of support locally for the idea, which was an extension of the smoke-free playgrounds initiative.
"The scheme won't be policed, but we're hoping that the local community will encourage visitors and residents not to smoke in public designated area," she said.
"Businesses and tourism establishments, especially catering outlets, should also benefit as Llanfairpwll becomes smoke-free."
She said Llanfairpwll would not become completely smoke-free overnight.
"We'll need a gradual cultural change, which will take time, but we're confident this can be achieved given such strong local support," she said.
'Pleasant environment'
Anglesey council said the scheme aimed to protect children and young people from second-hand smoke, as well as stopping them from seeing adults smoking.
The charity Action on Smoking and Health (ASH) Wales is supporting the campaign.
Chief executive Elen de Lacy said: "Outdoor public places in Llanfairpwll will now be more pleasant environments for everyone, especially children and young people, free from the harm of second-hand smoke and cigarette litter.
"It also adds to the changing culture that is slowly but surely getting stronger that smoking is not a normal, harmless activity, but a deadly addiction that kills one in two of its long-term users."
Andrew Jones, executive director of public health for Betsi Cadwaladr University Health Board, said it was "really encouraging".
He said: "It is important that children and young people in Wales do not see smoking as a normal, everyday activity as they are more likely to become smokers themselves."
However Simon Clark, director of the smokers' lobby group Forest, claimed the move was not about public health, but about control.
"What gives local councils the right to nag and harass people when they are not breaking the law but merely smoking outside?" asked Mr Clark. "The smoking ban was introduced, allegedly, to protect the health of bar workers. There is no evidence that smoking outside is harmful to anyone."