Llandudno is top Welsh tourist town, says TripAdvisor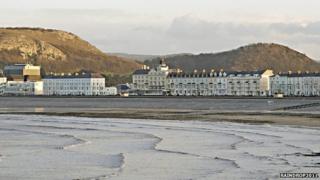 Llandudno has been named the only Welsh tourist town in a list of top 10 UK destinations based on ratings from travellers on website TripAdvisor.
London came top with Edinburgh second but Torquay and Llandudno were the only seaside resorts to make the list, finishing third and eighth.
Llandudno's appeal as a "traditional seaside destination" is attributed to its success.
In the top 10 are Liverpool, Belfast, York, Bristol, Leeds and Birmingham.
While the summit of the Great Orme is selected as one highlight of a visit to Llandudno, there is a nod to the changeable weather.
"Just take a jacket. It can be chilly up there," it says.
Llandudno hotelier Carol-Lynn Robbins says she has seen an increase in guests from the south of England and overseas visitors, especially from the US, who want to see a traditional UK resort.
"It's still got a Victorian feel, a seaside feel without being commercialised," she said.
History shows guidebooks from the Victorian period describing the resort as "Naples of the North" and its popularity began to grow with the arrival of the first trains and newly opened hotels in the mid 1850s.
The resort was developed by landowners, the Mostyn family, whose estate business continues to keep a guiding hand on the resort's development.