Winning EuroMillions ticket hidden in handbag for five weeks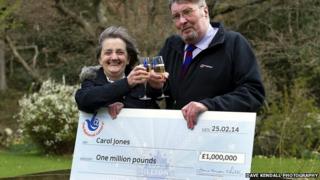 A mother-of-three discovered she had won £1m on the lottery after finding the winning ticket at the bottom of her handbag five weeks after the draw.
Carol Jones, 66, from Conwy, was at a supermarket and about to throw the ticket away when she decided to double check the numbers.
It was then the shoe shop assistant discovered she had hit the jackpot in the EuroMillions Millionaire Raffle.
Mrs Jones has already quit her job and is planning a dream holiday.
"What has happened to me can only be described as absolutely amazing," she said.
"No more worrying about keeping the electricity on, budgeting and cutting back to ensure we can pay the bills.
"Winning the lottery is just the most amazing feeling ever. The news is still sinking in and I am just going to take my time with everything."
Mrs Jones bought the winning ticket for the draw on 24 February but forgot about it until she went shopping.
"I just thought I had better check this ticket, I never believed it would be a winner," she said.
"I thought I would be throwing it in the bin. I actually checked the ticket on my way into work and I don't think the news really sank in at first, in fact I still don't think it has.
"The shop assistant told me it was a winning ticket and I had to call Camelot but I still went into work and just carried on as normal. I didn't finish work until 4pm and it was only when I got home and made the call that the reality of what was happening to me started to feel real."
Mrs Jones and husband Harold, 64, intend to take a safari holiday and buy a new house in the country.
"This is just a lovely amount to be able to retire on and for us to get the house of our dreams, have a wonderful holiday and lots of retirement luxuries," she added.