Surf Snowdonia centre work 'to start in May'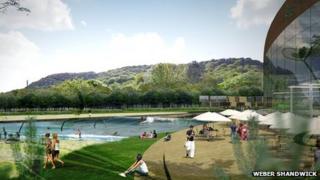 Work is expected to start on building a multi-million pound surf attraction and "wave garden" in May.
It is hoped the Surf Snowdonia project, at a former aluminium factory in Dolgarrog in the Conwy Valley, will open in early summer 2015.
Conwy Adventure Leisure said the scheme had taken a major step forward with the signing of a contract with a specialist firm to build the centre.
The company is waiting for final planning consent.
Conwy Adventure Leisure said the centre would create 100 construction jobs and 60 jobs on site once operational.
The plans include a "wave garden" with lagoons, water slide, wakeboard lake, lodges, restaurant, retail and play facilities along with a main car park for up to 250 spaces.
Dolgarrog Aluminium, which employed 170 people, closed in 2007 and an action group was set up to develop the site.
Steve England, editor in chief of Carve surfing magazine, said the planned wave garden would be "amazing" for new and experienced surfers by providing consistent conditions.
He likened it to providing facilities for snowboarders, skiers or skateboarders saying that currently surfers have to constantly hunt for the right conditions - weather, tides and seabed - which create suitable waves on which to surf.
He added that technology being developed in Spain over the last few years makes it "fantastic for surfers as you can practise time and time" again on the same type of wave and without having to endure difficult conditions with storms in the winter and a flat sea in the summer.