Arrest after Kings Road, Llandudno, rooftop stand-off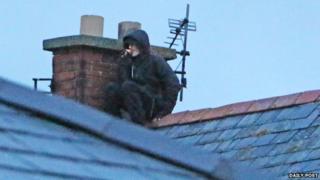 A man has been arrested following a rooftop stand-off at a house in Conwy county.
North Wales Police said a man climbed onto the roof of a house in Kings Road, Llandudno, on Thursday morning and threatened to self-harm.
He came down after seven hours but soon went back up on the roof where he spent the night.
He eventually came down at 07:00 BST on Friday and was detained by police.