Wylfa nuclear power station closed for five months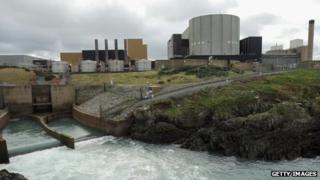 Wylfa nuclear power station on Anglesey has been closed for more than five months, it has emerged.
Reactor one was shut down on 6 January for maintenance work and the discovery of further problems has delayed re-starting the station twice.
The latest repairs are to a damaged pipe which was spotted by workers on 13 June but there are hopes to restart the plant again in two weeks.
The 43-year-old facility is planned to close later this year.
A Wylfa spokesman said no radioactive material was involved in the incidents.
He said reactor one was planned to be out of action for 100 days from 6 January, but when staff tried to restart the station during the Easter Bank Holiday it was discovered that repairs were then needed to one of the turbines and a gas circulator.
Safety
A pipe leak found on 13 June has resulted in further delays to the reactor start-up.
Following a return to service, the power station will continue to produce energy until the 30 September, with a possible extension to December 2015 if safety checks can be passed.
A second reactor at Wylfa was shut down on 25 April 2012, bringing to end 41 years of service.
There are plans for a new nuclear power station on a neighbouring site, at a cost of £8bn.
Horizon Nuclear Power want to put what are known as Advanced Boiling Water Reactors on the site, next to the ageing Magnox plant.