Germany to Wales on a Porsche (ok, it's a tractor)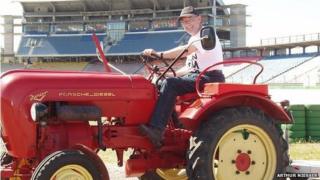 Porsche vehicles are known and loved for their speed and sleekness, but for one north Wales doctor the Porsche closest to his heart is a 50-year-old tractor which travels at a maximum of 12mph (19kmph).
Arthur Niesser is on the final leg of a slow 1,000-mile (1,600km) journey from his birthplace in southern Germany to his home in Porthmadog, Gwynedd, on the back of the tractor he learned to drive at the tender age of seven on his grandfather's farm in 1960.
Dr Niesser never lost his love for the machine. On his grandfather's death, it was passed on to his uncle and Dr Niesser persuaded his aunt to keep it in the family when his uncle died in turn.
He said: "This year I finally succeeded in owning it rightfully. The old romance is still alive."
The journey is not just an unusual jaunt, although Dr Niesser admitted having an adventure was part of the attraction.
With the centenary of World War One approaching, the retired GP is raising money for the medical charity Medecins sans Frontieres (Doctors Without Borders), which operates in conflict zones, and is mindful of the fact that the journey across country boundaries in northern Europe could not have happened 100 years ago.
He called it a "fantastic development that could not have been anticipated at that time.
"It's to celebrate that and to bring my two homes, Germany and Wales, a bit together."
Dr Niesser started his journey in Bussmannshausen in Upper Swabia on 3 June and has travelled via Stuttgart and Cologne in Germany, through Belgium to Brussels. stopping at Ypres and other war sites, and into France to catch the ferry from Calais to Dover.
All the way his trusty tractor has towed his temporary home, a small caravan.
Once into England he stopped for a visit to Canterbury Cathedral, went down the Mall in London past Buckingham Palace and on to see Windsor Castle before heading up through middle England towards the Wales border near Welshpool.
'I just wanted to help'
Speaking from just outside Shrewsbury on Monday, Dr Niesser said he was hoping to be home by Tuesday night.
He said he had chosen to visit places along the way which had some significance in history, and in particular in German-British history.
"It became a very personal journey and a very special journey," said Dr Niesser. "I think the most moving moment was when I was at a German war cemetery at Ypres. I saw there a wreath with poppies from a school in Welwyn Garden City. It was so lovingly put down with a personal message.
"That is what is reconciliation; that is what we can do to get on better."
Although the journey by tractor will end shortly, it will not be the end of his travels with the tractor.
Despite bringing it all the way over to Wales, Dr Niesser is actually planning to take it all the way back, but this time loaded onto a trailer.
He explained: "It would be difficult to register it in the UK. I don't have much use for it.
"I think I will give it to the village [in Germany] for use for community events. One of the mechanics who serviced it before the journey was part of a group who are really keen to preserve old tractors like this."
With an average speed of 10mph, he also thinks once by tractor is enough. "I was extremely lucky last week with the weather."