Historic maps in Welsh sold at auction in Colwyn Bay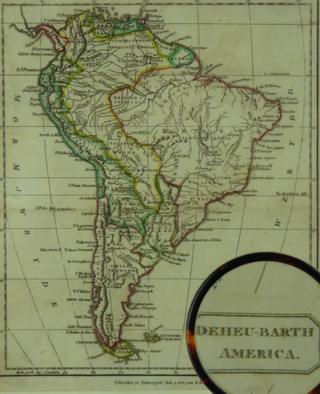 Rare maps translated into Welsh 200 years ago have been sold at auction.
They were the work of an Anglesey publisher and educator Robert Roberts, who produced them in the early 19th Century.
The five maps, including North America, Africa, Asia and South America, were among only a handful printed in Welsh during the period.
As well as producing maps, Roberts wrote Welsh language volumes about geography and astronomy.
He was a publisher, printer, and an astronomer, but "he wasn't a cartographer", explained David Rogers-Jones, of Rogers Jones Auctioneers in Colwyn Bay.
"He took maps and translated them into Welsh for his own use and had them re-printed," said Mr Rogers-Jones.
The maps offered for sale included a coloured and tinted map of the world called Darluniad y Ddaear - literally "picture of the land" - which Roberts produced in 1805.
The engraved copper printing plate is held in the archive of the National Library of Wales.
Roberts (1777-1836) ran his own educational academy in Holyhead and produced almanacs, developing a reputation for his interest in astronomy.
His largest work was published in 1816. Daearyddiaeth ("Geography"), illustrated with maps, ran to more than 640 pages.
The maps were sold in two lots to the same buyer for a total of £1,600.