£300k spent on Bangor business park stink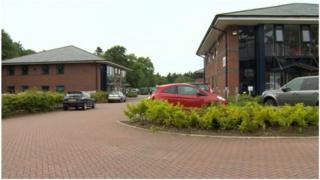 A stink coming from a waste treatment plant is getting up the noses of workers at a local business park.
For two months, companies at Parc Menai in Bangor have had to cope with bad odours coming from the Treborth waste water works nearby.
Workers have said they cannot open windows and that the smell has become worse more recently.
Welsh Water said it has invested £300,000 on upgrades and further work was planned to reduce the odours.
There have been intermittent odours coming from the park for years but it has come to a head recently.
Over 80 businesses are based at Parc Menai, and there are concerns some might move elsewhere because of the smells.
"Over the past two months or so it's got out of control," said Daisy Williams, who has worked at the site for nine months.
"It smells quite rancid especially first thing in the morning.
"You are confronted by this horrendous smell when you get to work.
"It also gets into the building as well and it's quite distracting when you sit down and try and do some work."
Welsh Water told BBC Wales: " We have been monitoring the situation as regards odours and have invested £300,000 between November 2013 and March 2014 on upgrading the treatment process on site to reduce the odours.
"Further investment is planned and we will be consulting with residents and local businesses in the next week to explain what our plans are."